"Thailand"
In May, 2011 we left for Thailand following an invitation from the Kennel Club of Thailand to judge at their show in Bangkok.

After the typical lengthy flight to the Asian Region, we were glad to arrive in the tropical heat of this beautiful country. Also on the panel was fellow Canadian judge, Ole Neilson and his wife Barb. Our hosts, Wanida Busakornnun, President of the Club and her husband known affectionately as 'Uncle', had arranged a tour of the city and sites the following day and we were anxious to get on our way.

Our first stop was the Grand Palace, once home of the Royal Family. The opulence was amazing and incredibly preserved considering the age and history of the buildings. We also visited an endless indoor mall where anything you needed was at your fingertips.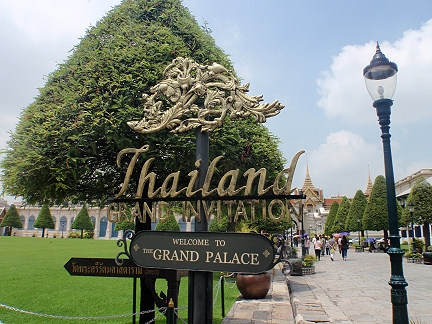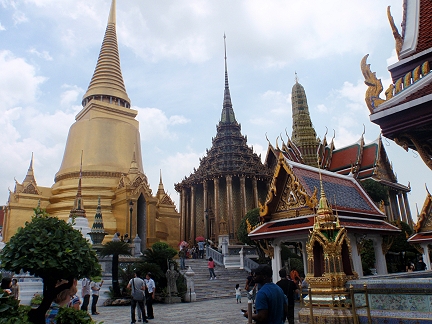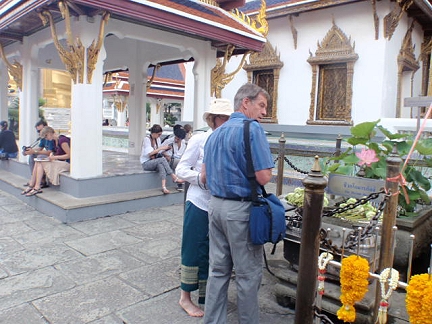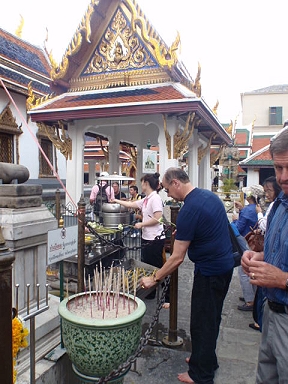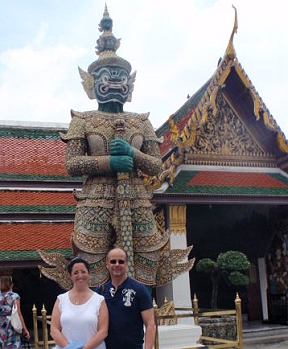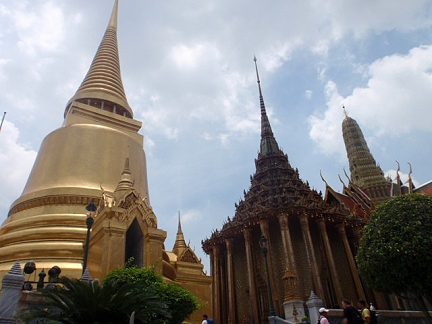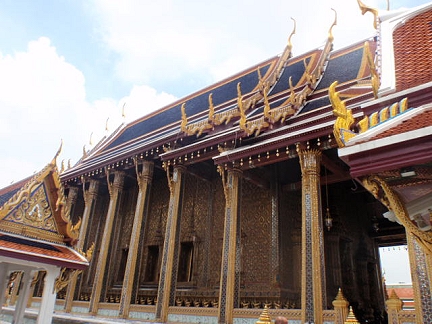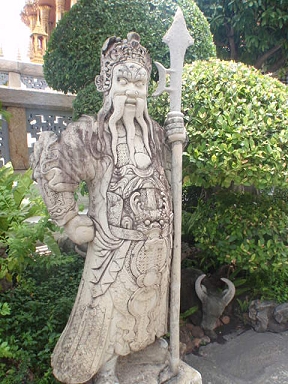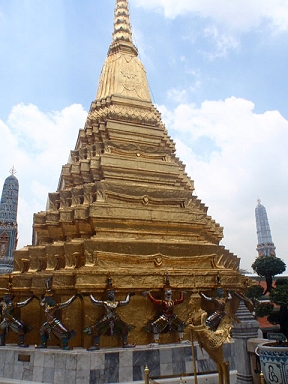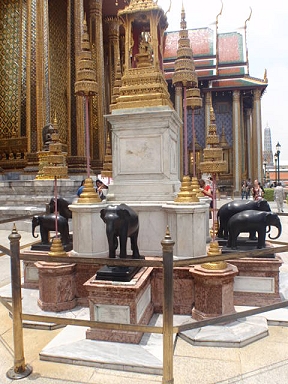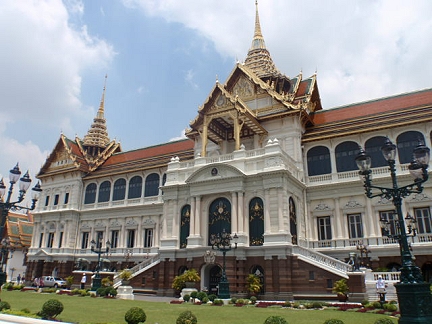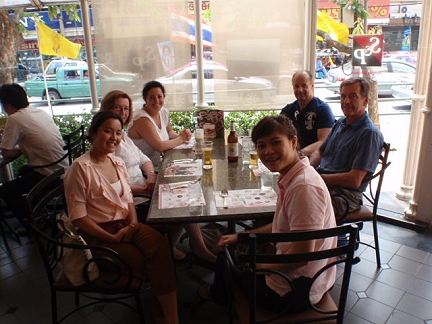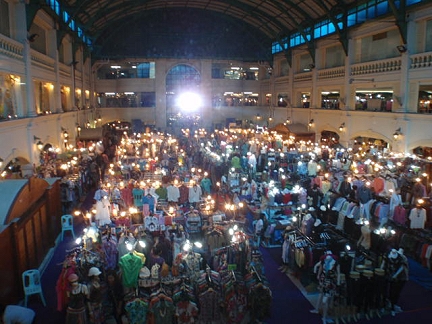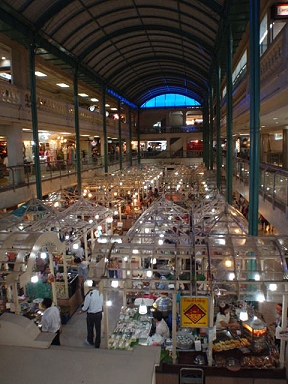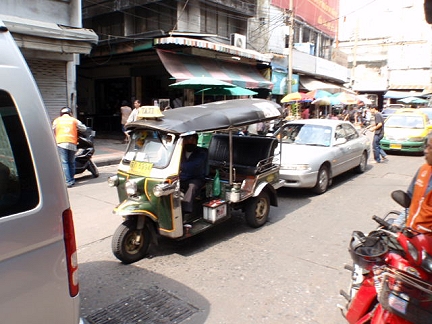 At supper that evening, we met our hosts, Wanida and Uncle at a gorgeous outdoor restaurant built on a lake and thoroughly enjoyed our introduction to authentic Thai cuisine. Upon returning to our hotel we ventured to the outdoor pool which was a refreshing end to a day in the heat. This quickly became a nightly ritual along with an evening cool beer or glass of wine.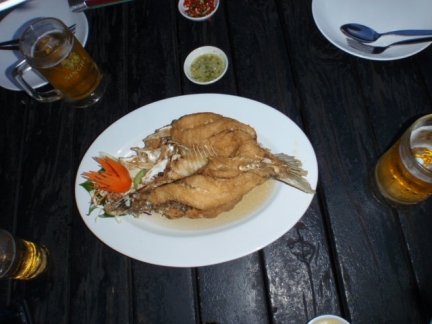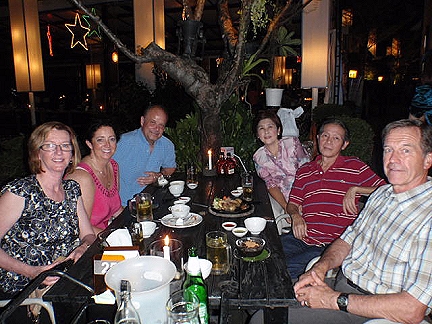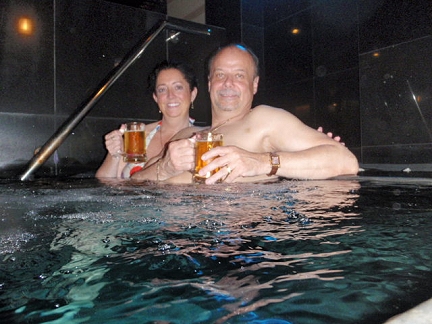 The next day we were taken to an amazing Thai market which consisted of products in an indoor section and a massive outdoor market area complete with locally made Thai furniture, fountains, sculptures etc. The prices were incredibly inexpensive compared to what they would be once they had made their way to the Canadian market. Our only problem would be finding room to get it home. We purchased a gorgeous hand-carved teak wall hanging, teak outdoor lanterns and hand painted batik wall hangings. Richard was in his element as "Chief Barterer" and scored awesome deals.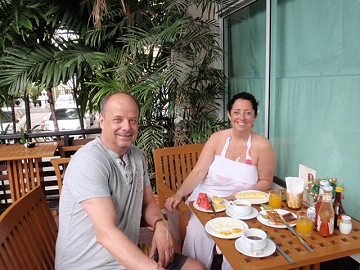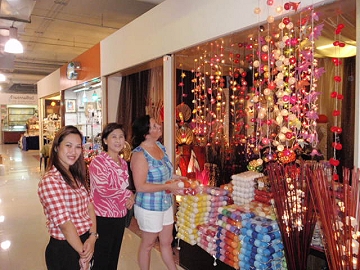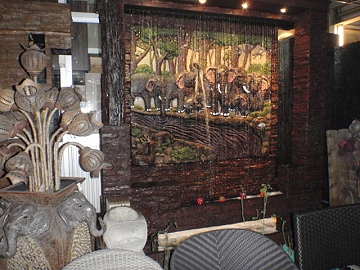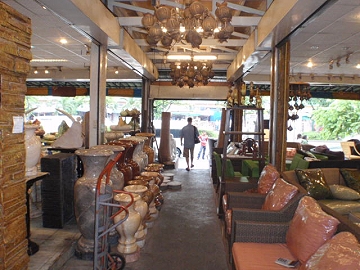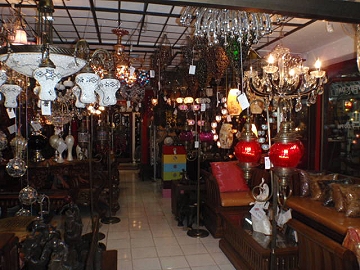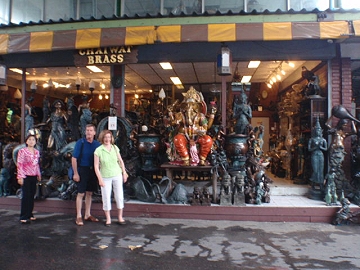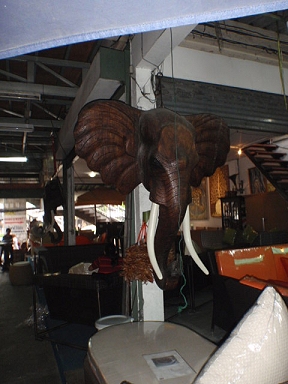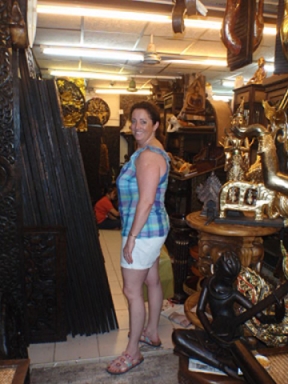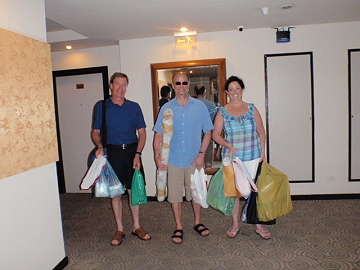 The big day had finally arrived and everyone was up bright and early as it was the first day of the Shows, They were held at MCC Hall The Mall Ngamwongwan, Bangkok Thailand, which provided wonderful space and bright, air-conditioned rings. Along with Richard and Ole, were judges Yolanda Nagler from Isreal and Matgo Law from Hongkong. The show was very well run and organized and the quality of the dogs was very good. There was quite a large entry of Shih Tzu, which were a pleasure to judge.
The Kennel Club Of Thailand Championship shows were held on on May 28. Judge Matgo Law chose a handsome Pomeranian AM.TH.CH.GOLDEN STAR'S TERMINATOR, Breeder/Owner : MR.ANEK SANEHMAHAKUL.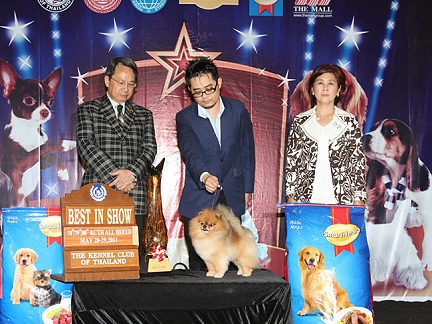 Richard chose the Best Local Bred in Show, Shih Tzu, TH.CH.OMEGA1 NICKI GO THE DISTANCE, Breeder / Owner : SAVITREE VIRAVAN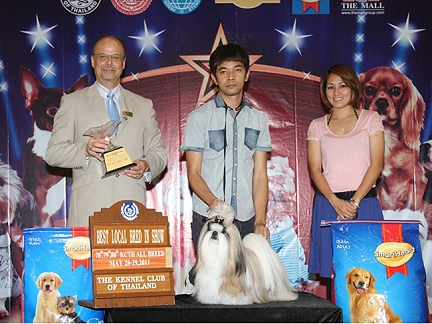 Judge Ole Neilsen awarded Best In Show to Siberian Husky TH.GRAND.CH.MYLA ROCK HUDSON, Breeder : MARIE ANN FALCONER, Owner : MR.M.URACHA & MR.M.SUPAKORN.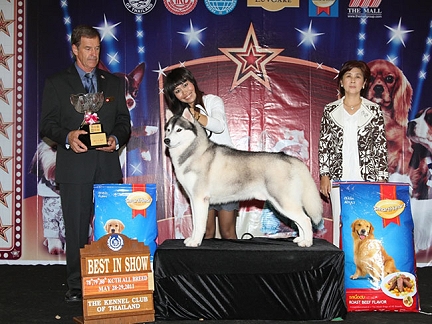 On May 29th, Judge Yolanda Nagler gave Best In Show at the Kennel Club Of Thailand Championship show to the striking Beagle TH.AM.CH.PERFECT COMPANION'S HAPPY HOURS, Breeder / Owner : MR.C.PHONGTHEP & MR.P.PEERAPONG & MR.V.NIRAT.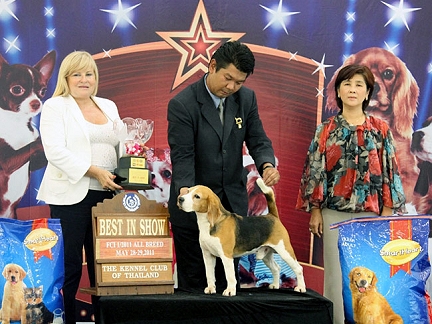 Richard judged Best In Show at the FCI International Dog Show and awarded it to Siberian Husky, TH.GRAND.CH.MYLA ROCK HUDSON, Breeder MARIE ANN FALCONER , Owner : MR.M.URACHA & MR.M.SUPAKORN.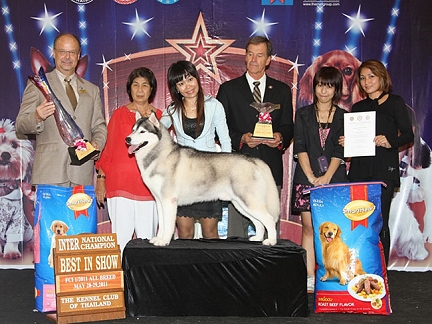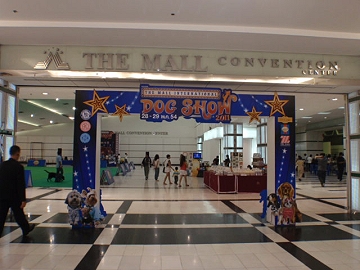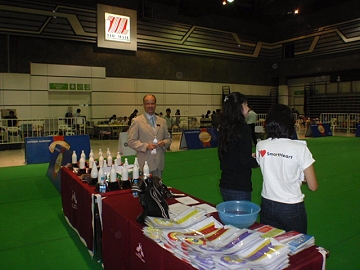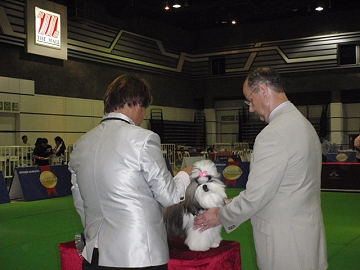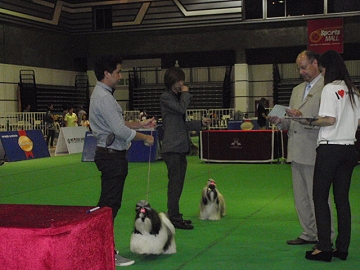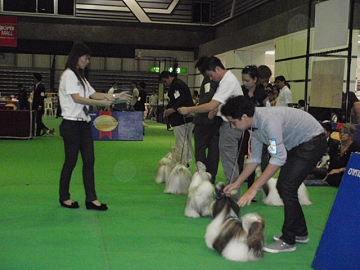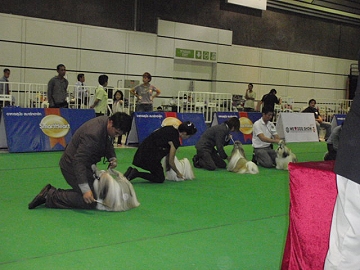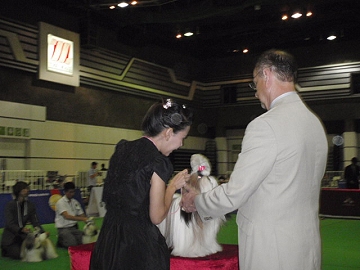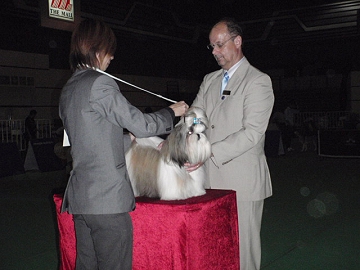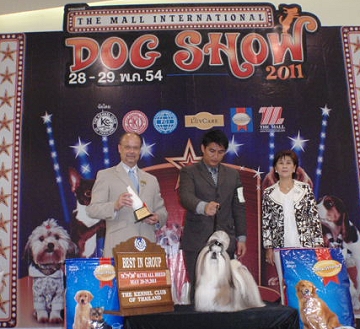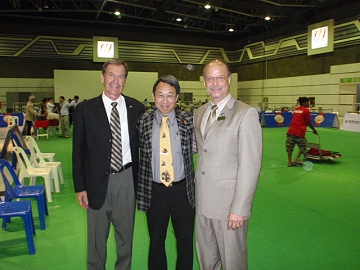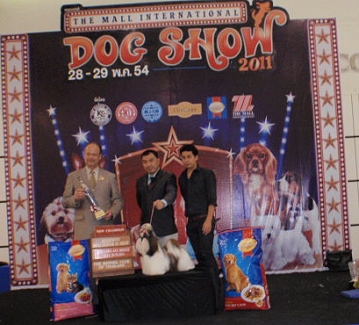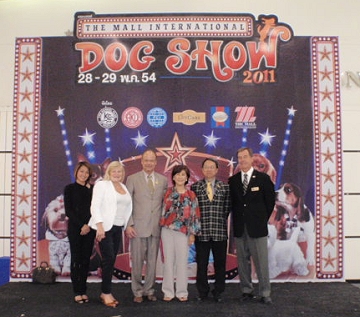 On Monday, Wanida took us to an artisan center where local craftsman are taught the crafts and techniques of their ancestors. Afterwards we were taken to see the Thailand elephants and had the exciting experience to ride these gentle giants. Supper was at a delicious Chinese restaurant. The food in Thailand was delicious and we decided to purchase spices to bring home with us.

The next day we experienced one of the "must see's" of Thailand. We went with Wanida to a Floating Market. Once the main way for locals to sell their wares, it had become a little more modern but still held tight to tradition. Piled high with various contents, people travelled along narrow waterways in a combined labyrinth of homes and stores mainly built on stilts. As a boat would go by or you would travel by a stall where something would catch your eye, you would pull over and the bartering would begin. Our boat driver took us farther down the waterway into a more residential area of stilted homes on the edge of the water and then to a temple where we got a chance to try ancient methods and rituals of Buddhism.
Back at the market, Richard bought Wendy a gorgeous red silk outfit and we acquired quite a selection of spices.
No trip to Thailand would not be complete without a trip to the awesome beaches and Wanida brought us to a white sand pristine location. Richard, Wendy, Ole and Barb also scored a great 'Thai massage on the beach' to cap off a perfect afternoon.

That evening would be our last in Thailand for this trip and to thank our hosts for their amazing hospitality, we had made a reservation to have supper on a floating restaurant. Our dinner was served on an antique rice barge, on the river as we travelled up through the city to see new sights and the water view of places we had already visited. It was a beautiful evening and a fitting end to our trip.

We found our experience to Thailand incredible and would have no hesitation to returning. Many thanks to our hosts, Wanida and Uncle for their endless hospitality and friendship.