We left Canada on Tuesday the 25th of August for two weeks in Scandinavia. Richard had been asked to judge at two International Shows, the first in Finland and then in Sweden. The show in Finland was the Etela-Hameen Kennel Club and would be held in Tervakoski, about an hour north of Helsinki and the second was the Gastriklands Kennel Cub in Hogbo, Sweden. Richard had been invited through our friends Bo and Anne Scalin who lived in Hollola, Finland.

We were excited to see our friends, Bo and Anne again. They had recently come to Canada to judge in Sudbury and we had spent a week together skiing in Mt. Tremblant, Quebec. After an 8 1/2 hour flight to Helsinki, Bo and their 3 year old son, Samu, were waiting for us at the airport. After a short drive, we arrived at their home in Hollolla to greet Anne and a litter of ten 7 week old Dalmatian puppies. Very cute! With a 6 hour time difference and an overnight flight, it was not long before we had to give into jet lag and have a nap. Three hours later, we felt as though we had awoken at a spa, as Anne had set us up for "revival" in their own private sauna-bath room. A huge bubble bath with mint leaves fresh from the garden, heated sauna, cool drinks and candle light awaited us while music set the stage for recovery in the finest form. Later, feeling extremely refreshed, we joined the family including their daughter, Natalie for dinner. We were quite impressed to discover that Bo was an amazing chef who created the most delicious meals for us during our stay. After a relaxing evening, we retired to bed, anxious for tomorrow.

The next day, Bo and Anne had plans to host a party that night and the day was spent in preparation. We took their car and went into the nearby city of Lahti to do a bit of sightseeing and grocery shopping as Richard was making his 'award winning' Caesar salad for supper. It was a fun filled evening meeting new people and enjoying the beautiful weather. Richard's salad was once again a hit and Bo did not disappoint with grilled Thai chicken skewers and beef tenderloin.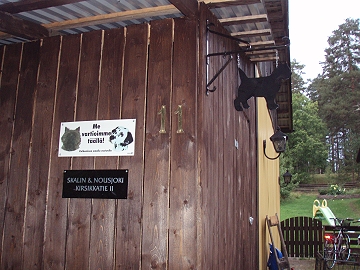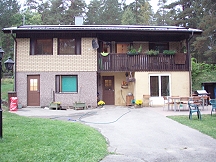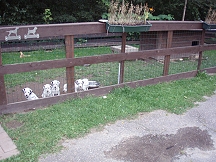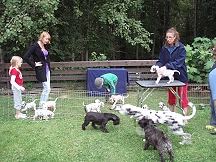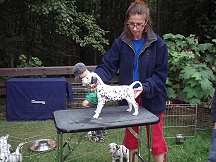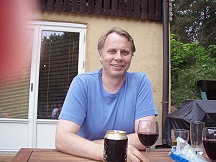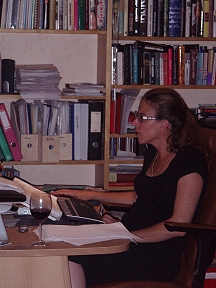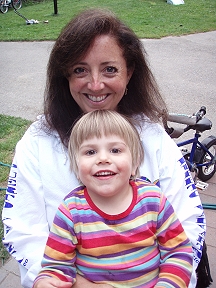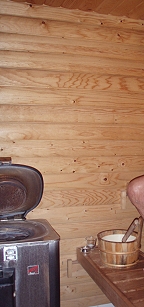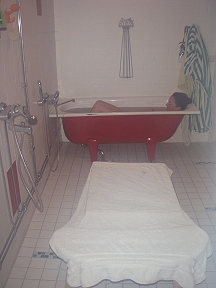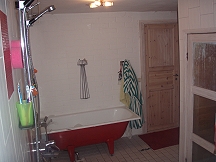 On Friday, preparations were in full swing for the weekend shows and Wendy and I left for the judge's hotel in Rittimaki. On Saturday, we were picked up by Bo, who was also judging and arrived at the show sight to be greeted by the rest of the panel. The FCI International Dog Show in Tervakoski, Finland on August 29 & 30, 2009 had an entry of 3263 dogs was judged by an International panel of judges over two days.
As a Canadian judge, this was my first opportunity to judge at an International show since the recent ban imposed by the FCI on Canadian Judges had been lifted. The background on this subject is that due to some communication issues between the CKC and FCI a restriction was placed on CKC judges in recent years officiating at International shows. A new Memorandum of Understanding has now been signed between the two organizations and Canadian Judges are once again welcomed to officiate at shows where the CACIB is being awarded. Under the new protocol any Canadian judge who awarded CACIB prior to December 31, 2007 would retain that same privilege while judges who had not awarded CACIB would need to judge at least 4 National shows, in 4 different member countries before being allowed to judge CACIB. As I had judged my first CACIB show in 2000 I am among the Canadian judges considered "grandfathered".

Best In Show from a very strong line up was awarded by Judge Bo Skalin from Finland to Lagotto Romagnolo, named Foogel Basileo owned by Eija & Sanni Fernelius from Pirkkala, Finland.

The show was well organized in an excellent outdoor venue. Hospitality extended to the judges by local Finnish judge Tapio Eerola was outstanding. I look forward to returning some day.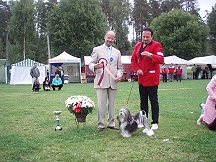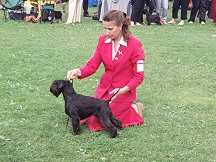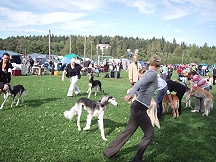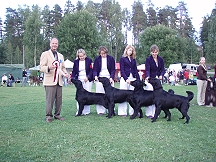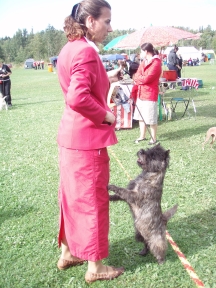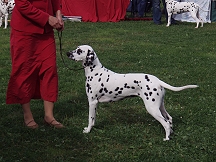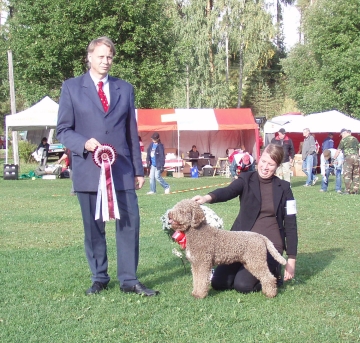 Sunday evening we returned to Bo and Anne's as we had plans to see Finland and the surrounding area until Thursday when we would leave for Sweden.

On Monday, we decided to give Bo a break and cook supper. By request of Anne, we prepared a Mexican meal of chimichangas, Mexican rice, refried beans and corn and all the fixings of salsa, guacamole and chili con queso. Washed down with Sol, it was a festive evening.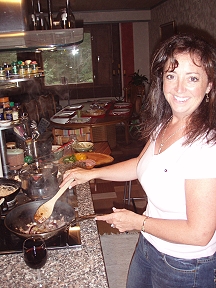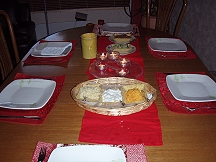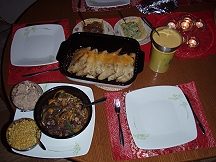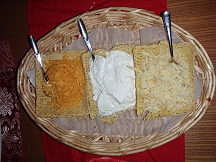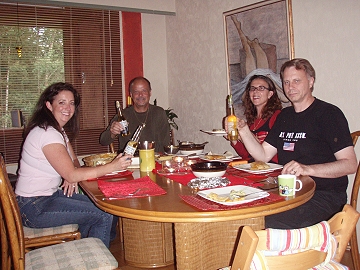 On Tuesday, we borrowed the car and went into Helsinki for the day. We spent hours wandering our way through the downtown district which is rich in history and architecture. Several areas have markets, both open air and in buildings and here, you can purchase anything your heart desires. Fresh fish and meat, vegetables, fruit, local handicrafts, delicious assortments of meat and cheese and the most decadent desserts, of which we did fall prey to and bought a chocolate cake to bring home for dessert.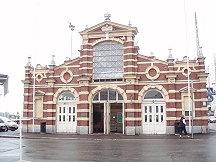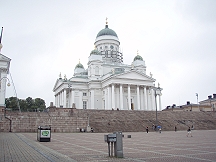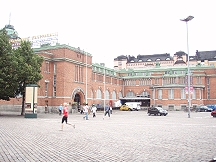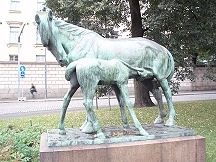 We also took the ferry to the Suomenlinna Sea Fortress, The construction of the sea fortress on the islands just off Helsinki in the middle of the 18th century was the most extensive building project during Swedish rule. When it was complete, its military shipyard was one of the biggest dry docks in the world and centres of know-how at that time. At the end of Swedish rule the fortress was being compared with the maritime fortifications at Gibraltar. The 250-year-old fortress, which has been preserved intact because of its military use, is today part of the world heritage. In 1991 it was included in UNESCO's World Heritage List. Suomenlinna is one of Finland's most popular tourist attractions while at the same time it is a suburb of Helsinki, with 850 people living in the renovated ramparts and barracks.

We then returned home, with chocolate cake in tow as well as two large wedges of Camembert and Brie cheeses and two bottles of wine to enjoy before dinner.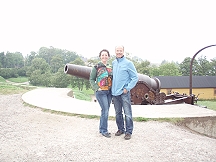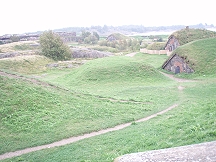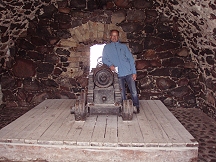 On Wednesday, we took the train into Helsinki and caught a ferry to the town of Tallinn in Estonia. This town made you feel as though you had travelled back in time. Cobblestone streets in winding narrow lanes and streets with the original buildings, street lights and hardware, some dating back to the 1300's. It lies on the southern coast of the Gulf of Finland, only 70 km south of Helsinki. At the historical heart of the city is the hill of Toompea, covered in cobbled streets and filled with medieval houses and alleyways. The lower town spreads out from the foot of the hill, still protected by the remnants of a city wall. Around the city wall is a series of well-maintained green parks, great for strolling. The old town has been astonishingly well preserved and was inscribed on the UNESCO World Heritage List in 1997. We strolled through the streets and shopped a little bringing many pieces of the famed "amber" back for souvenirs. We each also purchased the Scandinavian sweater for substantially less than we would have purchased them for at home.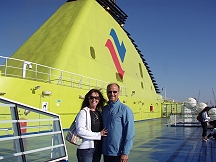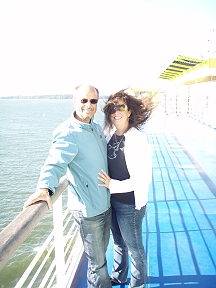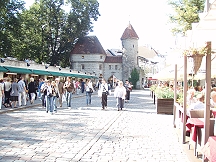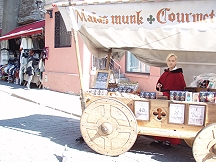 Our time in Finland had eneded and we sadly left the Skalin home to take the ferry to Stockholm. Anne would follow the next day so Bo, Samu, Natalie, Wendy and I boarded the ferry for a 12 hour trip through the archipelago of islands to Stockholm.The ferry was more like a cruise ship with restaurants, nightclubs, pubs and duty free shopping, which boasted a fabulous wine selection at incredibly low prices. We had a wonderful room overlooking the water and enjoyed the breathtaking scenery both there and on deck. For supper, Bo took us all to the International buffet in which foods from all over the world were being served. We started with traditional Russian of several types of caviar, cream, onion and a soft bread. On to the next course of lamb, seafood, Asian.....we were shortly very full! After a bit of shopping, Bo took the kids back to their cabin for bed and Wendy and I headed for the nightclubs. The music was excellent with live bands in each venue. We finally headed off to bed in the wee hours, exhausted but still dancing.